Thirsty Thursdays: The Biggest Drinking Night of the Year... Prepare now!
On Thirsty Thursdays, we review the best parties, bars, events, tailgates, and places to spend a great night with friends as well as a few drink mixes to enjoy the evening. We say Celebrate. Recover. Repeat. and NextDay Recovery covers you in the morning no matter what you got into last night, so you only have to worry about the first part -- Celebrate.
Do you know which night of the year is the biggest for drinking? It's not July 4th or St. Patty's Day, it's not Halloween and it's not some random Monday you get off for President's Day... It's the night before Thanksgiving. That's right, today, we're talking about Thanksgiving Eve, the biggest drinking night of year in the US.
Thanksgiving Eve, also lovingly dubbed "Blackout Wednesday" or "Drinksgiving," has become a cultural phenomenon, marking the beginning of the holiday season with a spirited celebration. It's a time when friends and family reunite in their hometowns or gather in anticipation of the Thanksgiving festivities. What started as a casual get-together has evolved into a nationwide tradition where bars overflow with patrons eager to raise a glass before the feast.
The night before Thanksgiving offers a unique opportunity for people to reconnect with old friends, classmates, and extended family members who return to their hometowns for the holiday. It's a time to relive cherished memories, share stories, and reminisce about days gone by. The casual, laid-back atmosphere provides the perfect backdrop for catching up and creating new memories together.
Bars and pubs become the epicenter of the Thanksgiving Eve celebration, offering a liberating escape from the stress of holiday preparations. Patrons let loose, leaving behind the worries of the workweek and embracing the festive spirit. Whether it's a craft beer, a signature cocktail, or a classic glass of wine, libations flow freely as friends clink glasses in a collective toast to the season of gratitude.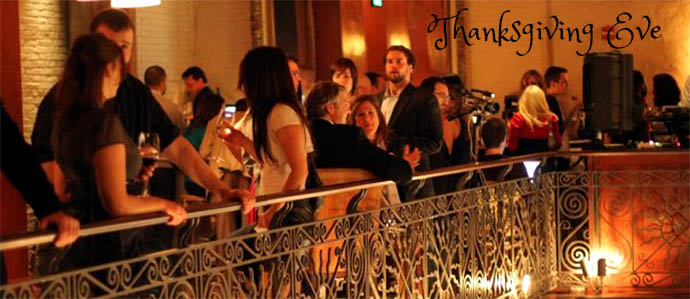 While Thanksgiving Eve is a night of revelry, it's essential to prioritize safety. With increased alcohol consumption, it's crucial not to drink and drive. Many communities and rideshare services offer discounted or free rides to encourage responsible transportation choices. By ensuring everyone gets home safely, the night remains a positive and memorable experience for all. Once you're home, make sure you recover in time for the big Thanksgiving festivies -- grab something with electrolytes, vitamins (like B6 for nausea), caffeine, and DHM, an ingredient scientifically proven to help with hangovers.
NextDay makes any celebration keep going (like Thanksgiving Eve into Thanksgiving) with NextDay Recovery's all-natural blend which includes DHM and essential vitamins and minerals to make you feel great no matter what happened last night. With a small dose of natural caffeine and low calories, get a NextDay for your anytime pick-me-up with no jitters and no crash (and if you need it within 30 minutes, order here). Celebrate. Recover. Repeat.
---